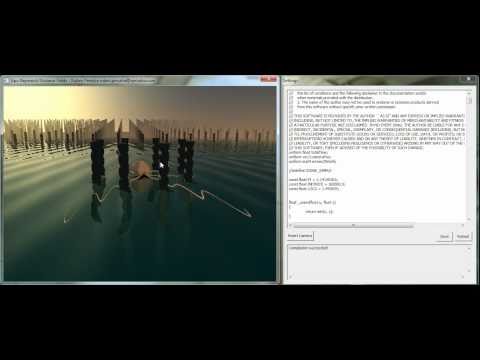 Features
Ray marching of distance fields done on the Gpu inspired by IQ demo "Slisesix" and  Shadertoy. The video shows two scenes rendered with a pixel shader: the simple scene showing basic distance fields and the more elaborated one, showing procedural distance fields and shading.
Report
This test is heavily inspired by the IQ's work done on ray marching and his several raymarched demos. The test builds the pixel shader, which is the ray marcher, on the fly everytime the shader changes. The algorithm is as straightforward as cast a ray, sample the distance in a position and advance to the next with the distance obtained until you reach a minimun distance or a maximun number of iterations. The distance fields are functions like spheres, cylinders and torus. The fun comes with the csg operators you can use like union or difference. I have had a great amount of fun developing the procedural distance fields but requires a lot of tweaking and time.
Controls
Left click plus mouse movement to rotate the camera around the center of the scene.
Technology
C++
Boost
Opengl 2.0
Glew
CMake
Microsoft Visual Studio 2010
Subversion
Redmine
Windows 7 x64
Develop/Build/Test Machine Specs
Intel(R) Core(TM) i7 CPU 920 @ 2.67GHz
3072 Mb RAM
Nvidia GeForce GTX 260
Nvidia Driver Version: 260.99
Microsoft Windows 7 Professional x64
Resources