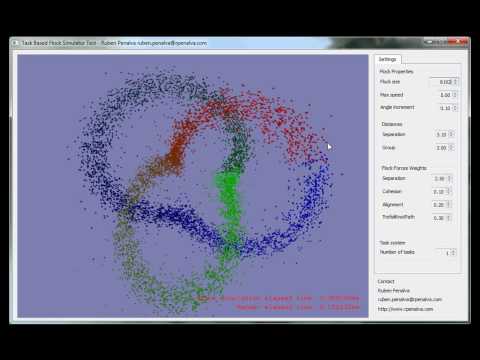 Features
Flock simulation using tasks in order to keep busy all the cpu cores. It uses the Vista Pool Thread API to make a really simple wrap for send multiple tasks to the pool. The video shows how most of cpu cores (hardware threads) are not working under a heavy load of work with only one task in the pool. If the work is spread across multiple tasks, the video shows how all the cpu cores are busy.
Downloads
Report
After seeing the gdc10 intel talk about tasks using the vista thread pool api,  I wanted to give it a try. So, the objective of this test is just try the thread pool api that vista provides. I dont try to get a massive amount of geometry on screen, just have something cpu intensive and appealing like a flock simulation algorithm.
Controls
Left click plus mouse movement to rotate the camera around the flock.
Right click plus mouse move up/down to zoom in/out.
Technology
C++
Boost
Opengl 2.0
Qt
Freeglut
Glew
Microsoft Visual Studio 2008 Professional Edition
Subversion
Redmine
Windows 7 x64
Develop/Build/Test Machine Specs
Intel(R) Core(TM) i7 CPU 920 @ 2.67GHz
3072 Mb RAM
Nvidia GeForce GTX 260
Nvidia Driver Version: 196.21 WHQL
Microsoft Windows 7 Professional x64
Resources