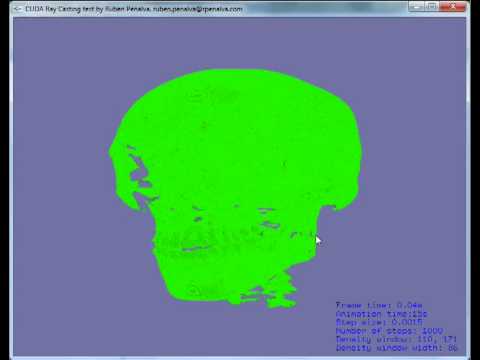 Features
CUDA based application showing gpu volume raycasting using single pass Stegmaier et al. technique.
Downloads
Report
The cuda raycasting implementation is the same approach as the Stegmaier one but with some minor changes and simplifications:
CUDA kernel
The volume is a cube: width, height and depth are all the same.
Proxy geometry (the six quads or the cube) is normalized and translated so the center its the same as the center of the scene.
The intersection code is really unoptimized. It's just a straightforward implementation of the intersection ray-aabox function shown in "Real time collision detection" by Christer Ericson. I would suggest you to see the implementation of this function within the nvidia sdk volume render sample .
Controls
Left click plus mouse movement to rotate the camera around the volume.
Right click to show the context menu.
Middle click plus vertical movement to increase/decrease the density window width.
Middle click plus horizontal movement to move right/left the density window.
Technology
C++
Opengl 2.1
CUDA
Glut for Win32
Glew
Microsoft Visual Studio 2008 Professional Edition
Subversion
Redmine
Develop/Build/Test Machine Specs
Intel(R) Core(TM) i7 CPU 920 @ 2.67GHz
3072 Mb RAM
Nvidia GeForce GTX 260
Nvidia Driver Version: 196.21 WHQL
Microsoft Windows 7 Professional x64
Resources