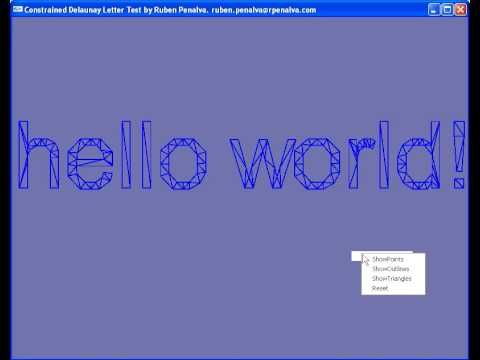 Features
Opengl based application showing constrained delaunay triangulation of a given string by the user, using Triangle library and Freetype library.
Downloads:
Report
The test is composed of two projects: a simple application just testing the use of triangle library and an application that triangulates and renders a string given by the user.
The second application uses triangle library for the constrained delaunay triangulation and freetype for getting the glyph's outline. Triangle is fairly easy to use so no remarkable things to note. The most remarkable thing is how extract hole information from a contour in freetype library. You will have to take into account the orientation of the contour (you can use the area method to get it) and the orientation convention of the font.
Technology
C++
Opengl
Glut for Win32
Triangle
Freetype
Microsoft Visual Studio 2008 Professional Edition
Subversion
Redmine
Develop/Build/Test Machine Specs
Intel(R) Core(TM) i7 CPU 920 @ 2.67GHz
3072 Mb RAM
GeForce GTX 260GS (256 MB)
Nvidia Driver Version: 181.20
Microsoft Windows XP Professional SP3 x86
Resources